I first saw the idea implemented while visiting the Opryland Hotel in Nashville, Tennessee. It was pure genius. There was a steady stream of guests waiting to check-in to the hotel who were all cheerfully greeted by friendly front desk clerks wearing name tags. But these were no ordinary name tags. They had a magical quality about them that transformed the attitude of each and every guest.
Erin – Cork Ireland
Everyone working at the hotel wore a name tag with their first name and the name of the city and country they called home. "Chris – Marietta, GA" "Dennis – St. Louis, MO" "Erin – Cork, Ireland." Guest after guest approached the counter with a smile and a comment about the employee's hometown. "I went to high school in Marietta." A guest yelled from down the counter. "How about those St. Louis Cardinals? I think they're going to win the pennant again this year. What do you think?" Another guest roared.
There were people who had waited in line for over 20 minutes and had allowed others to move ahead of them so they could talk to a clerk from the city of their choice.
Scott Ginsberg
The Opryland Hotel is not the only place on earth that understands the value of a name tag. There's a young man named Scott Ginsberg from my home town of St. Louis (I know that because I saw it on his name tag) who has been wearing a name tag 24/7 for over 2,500 days in a row. Scott was so impressed with the results of wearing a name tag that he had it tattooed to his chest. He even wrote a book about it entitled, Hello, My Name is Scott.
We like people who are like us
We like people who have the same interests, the same background and the same experiences. We like these people because they validate us. They make us feel good about who we are, where we came from and what we're doing with our lives. They identify with us at a level no one else can possibly understand which creates a heightened level of attraction. And the more unique the similarity, the greater the perception of understanding. Let me give you an example.

I live on the island of Maui in Hawaii with my family. When I'm on island I don't start a conversation with everyone I see wearing a Maui t-shirt. On the contrary, when I'm in St. Louis visiting my family, I'll track down a complete stranger wearing a piece of Maui clothing and strike up a conversation about Hawaii. I've gone so far as to invite a handful of these people to my home when they visit Hawaii. I've never invited my dentist or letter carrier to my home, but I've invited a complete stranger just because he or she was wearing a Road To Hana t-shirt in a place other than Maui. What's up with that?
There Are Only Two Ways
There are only two ways you're going to unearth common ground with people. Either they're going to tell you something about themselves or you're going to disclose something about yourself to them. And not every piece of personal information shared is going to resonate with everyone. It's a numbers game well worth playing. But don't wait for the other person to make the first move.
Likeability Magnet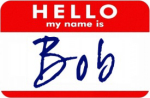 They won't do it. You need to take the risk and reveal something unique about yourself first. Here's what I suggest. The next time you're at a convention or party or social function, convert your name tag into a likeability magnet. Add a simple word or phrase to your name tag that discloses something about yourself that will generate conversation.
Over the years my name tags have included: Fireman, SLUH, SWM, New Father, Bart Simpson, St. Louis Cardinals, UMR, Atlas Shrugged, 5 miles/day, 18#, Atlanta, Mizzou, hemorrhoids and Ten days to go. Each word, number or phrase was intended to make it easier for people to start a conversation with me and to attract people with similar interests, and it worked.
Who knows, one day you may be at a convention wearing your new name tag and someone might just walk up to you and say, "Hey, I just had a colonoscopy too. Let's do lunch." And maybe, just maybe, that stranger will be me.